Most values on profiles are clickable, green links. For instance, when you click on "Suits" in the "FETISH" field you will see all other profiles containing "Suits". This way you can find other Datedick men with the same interests very easily.
Click here to see all other Datedick Tips.
Apply for Datedick membership
---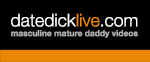 Mature gay bi orgy videos on Datedicklive.