What are the first things you do each time you visit Datedick? Here are a few tips.
Check the New Featured Datedick Men presented on the "New" page.
Check New Members that have signed up since your last visit by clicking on "Newest".
Check new Messages and new Friend Requests.
Click on "Notifications" to see reactions and likes on your photos.
Click on "Action" to check out All Activities.
Click on "Men" to search for members and contact them.
Click here to see all other Datedick Tips.
Apply for Datedick membership
---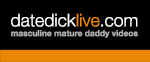 Exclusive mature gay orgy videos on Datedicklive.