To search for members click on "Men". You will see the filter array on top. Write the username you are searching for into the NICKNAME field and click return. To display all members again choose "All – Reset Filter".
To search something in the CITY and STATE fields you have to click Return as well.  To search in the other fields you just have to select a pop-up value. You can combine searches.
Click here to see all other Datedick Tips.
Apply for Datedick membership
---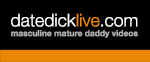 Private male orgy videos on Datedicklive.
Datedicklive. The site for private male orgy videos. Watch exclusive mature bi-gay orgy porn with huge dicks, big balls and meaty nipples